Irving K. Barber Faculty of Science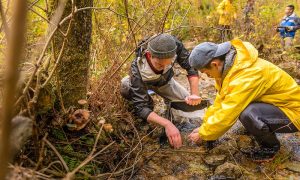 By Violetta Cohen on August 9, 2021
Researchers are evaluating how environmental factors like diet influence gut health, and whether innovative solutions can alter inflammatory bowel disease's susceptibility
Posted in Irving K. Barber Faculty of Science
By Nathan Skolski on June 17, 2021
Conservationists have long warned of the dangers associated with bears becoming habituated to life in urban areas. Yet, it appears the message hasn't gotten through to everyone.
Posted in Irving K. Barber Faculty of Science
By Christine Zeindler on June 3, 2021
UBCO experts are available to comment on how to restore and protect ecosystems, rewild gardens and create sustainable consumer behaviour to help achieve a greener relationship with the environment.
Posted in Irving K. Barber Faculty of Science